Minimalist Web › Structured Data
Contents of web pages are defined and transformed into structured data in accordance with international schema guidelines. Article, local business, event.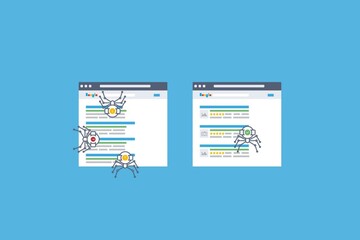 Structured data means clear clues to Google to understand what a page is about. Structured data provides information about the page and segments the content of the page.
Since structured data tags every element of the content on the website, users will be able to search according to many features in the content and find the content in the search engine. Also, a page that contains structured data will become eligible to be shown as a result in a graphical search. Structured data should also help to make the content of a page easier to understand. You should avoid creating empty pages or pages with no content to place the structured data in.
Rich snippets mean extra explanation, data or icon that appear in the summary of pages on the Google search engine results page. Rich snippets can be displayed in many different ways, such as informative text, review ratings, or small profile photos.
Rich snippets, which Google calls structured data, are very important for product reviews, recipes, reviews, etc. as they attract more attention of users in search results.

References : https://developers.google.com/...
RICH SNIPPET TEST
Rich Snippet Test : https://search.google.com/...
A great tool with which you can create over 1,400 types of schemas for your website: https://www.schemantra.com/
To be continued...
This page was added on 27.08.2021 . It was last updated on 02.05.2022 . You can see the update times on other pages from the Update History page.
---
E-A-T (Expertise) :
Opening faster than 1.5 seconds on average worldwide; With PWA, we have developed our special software that can be installed on smartphones and computers like applications and can create websites that allow offline access. Over 10 thousand hours of experience in PHP, CSS, Javascript, HTML5 for minimum code, maximum speed, high performance and better user experience!
Isfendiyar YUCEL's
Twitter profile @basitamazor
Instagram profile @isfendiyaryucel
E-A-T (Authotitativenes) : Online Marketing | Dijital Marketing | https://ilgi.li/
Our articles; In Turkish Google searches such as "online marketing", "how to do online marketing", "original content", "how to write original content", it is shown in the first place with ~30 million results worldwide!
E-A-T (Trustworthiness) : Search Engine and Marketplace | https://teyit.li/
We provide businesses with professional online marketing and competitive e-commerce. We also provide users with only verified results, with the fastest pages, for the best experience!